Training for your next challenge in full flow?
Here are all of your after training therapy needs.

Shop Now


Neck & Shoulders Therapy


Back & Knee Therapy


Feet Therapy


Wrist Therapy


Eyes Therapy


Travel Packs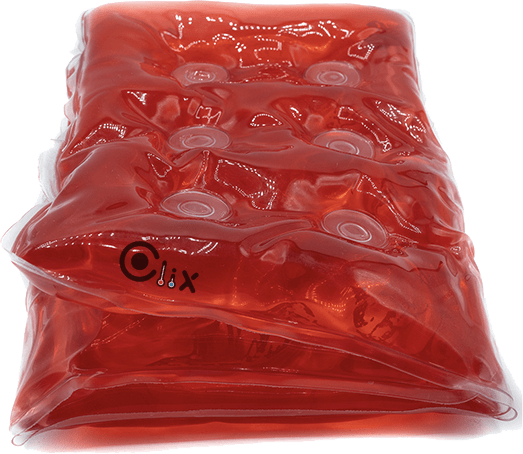 What are Clix?
Clix are reusable, instant heat packs for your hands, neck, feet, or even as a baby bottle warmer! It's an easy-to-use, effective, and 100% safe heating solution that requires nothing more than a simple click.
Activate with just a click of a button, and Clix instantly warm to a preset temperature of up to 130*F/54*C that lasts up to 90 minutes!
Unlike other heat packs, Clix requires NO electricity and NO microwave. 
Hot & Cold Therapy
Our variety of Clix come in all shapes and sizes to provide our customers with easy, reliable Cold & Hot therapy. The instant heat helps eliminate issues such as muscle injuries and stiff joints and the cool pad works immediately to reduce swelling/inflammation. This type of therapy is beneficial for all types of very common conditions such as headaches/migraines, arthritis, cramps, and blood circulation issues. 
How do Clix work?
The magic ingredient inside the products is Sodium Acetate; a non-toxic solution based on an organic sodium salt. By flexing the small metal disc inside, it forces a few molecules to switch to solid state, the rest of the liquid will then rush to solidify as well creating a cloudy appearance inside the pad. The temperature of the solidifying liquid jumps up to 130 degrees F in the process. This can all be reversed by boiling the salt crystals back to a liquid which allows you too again, flex the metal disc and restart the reaction endlessly!
Customer Reviews
They offer a GREAT product! And they back it up with no questions asked. The friendly customer service was astounding, and it was refreshing to work with such high class people. I will DEFINITELY do business again! 🙂



Amanda A.
The heating packs have been super helpful for aches and pains. They are long lasting and reusable. We purchased one for the shoulders and back. When we needed to have the one replaced due an issue, we emailed them a warranty claim. Hattie was very helpful and sent it out a replacement right away as priority mail. Five starts for customer service, thanks Hattie!



Jason
Customer service was great! Replied fast and got things figured out. Really impressed with the product and how much they care about their customers!



Karlee
I purchased this product from a fair and I loved it. One pad did begin to leak but I emailed the address that was given to me with my purchase. They were polite and courteous after I emailed the information they needed I was sent a new replacement. Very pleased with how everything was handled and I LOVE this product!



Amanda K
Amazing service! When I bought the packs they explained everything perfectly! The packs work as they stated and have been a lifesaver for my feet and neck. Then when one started leaking I Contacted the company via email and they responded right away! My replacement is on the way! Love this!



Savanna S
Had a small issue with a leak on the back warmer and had to contact customer service not only did Hattie go above and beyond for me in no time at all but she was so personable and kind because it took me days to reply to her emails due to just having a baby she made me feel like my business was greatly appreciated and you dont see that alot anymore thank you so much and thank you so much for such amazing products we will be enjoying them all.



Nadia H
The customer service is wonderful. I had a back warmer that malfunctioned with boiling it to reset it and they took care of me with no questions asked with that 10 year warranty. I use atleast one of the several products purchased daily.



Christina G
Previous
Next